Grateful Dead Songs - Alligator
Alligator was played about 60 times between '67 and '71. The first known performance was recorded on 1-27-67 at the Avalon Ballroom. However, it's not certain that this was actually it's first appearance. Recordings from this early in the band's career are pretty scarce and their lineage is often unreliable.
From the first time it was played it was a vehicle for intense and inspired jamming. Like Viola Lee Blues and many of their other songs of the time it could be quite long, stretching out as far as the band wanted to take it. It sometimes contained a drum solo and often segued into Caution. These jams could sometimes make up a large part of a set and included some of the most extraordinary improvisation of the "Primal Dead" era.
This was the first of Robert Hunter's lyrics that the band recorded, appearing on Anthem Of The Sun. It's one of the more whimsical Grateful Dead songs, demonstrating that they were never afraid to sing nonsensical verses and actually reveled in the silliness. It's a tradition that continues today in the lyrics of Phish and many other modern jam bands.
Pigpen added the final verse beginning with "Ridin' down the river in an old canoe" possibly something he came up with while improvising a rap as he was known to do. The whole band added the line "Tear down the Fillmore, gas the Avalon" as a dig at Bill Graham and Chet Helms who were the respective owners. The Dead along with several other San Francisco bands owned the Carousel Ballroom which opened on 2-14-68 so the two other venues actually became their competition for a short time. Graham had the last laugh however, quickly buying the venue and renaming it the Fillmore West when the venture failed due to the band's poor business practices.
---
Grateful Dead Lyrics - Alligator
Sleepy alligator in the noonday sun
Sleepin' by the river just like he usually done
Call for his whiskey, he can call for his tea
Call all he wanta but he can't call me

Oh no, I been there before
And I'm not comin' back around there no more

Creepy alligator comin' all around the bend
Talkin' bout the times when we was mutual friends
I check my mem'ry, I check it quick yes I will
I check it runnin' some old kind of trick

Oh no, Well I been there before
And I ain't a comin' back around there no more, no I'm not

Hung up waitin' for a windy day
Hung up waitin' for a windy day
Tear down the Fillmore, gas the Avalon

Ridin' down the river in an old canoe
A bunch of bugs and an old tennis shoe
Out of the river all ugly and green
The biggest old alligator that I've ever seen
Teeth big and pointed and his eyes were buggin' out
Contact the union, put the beggars to rout
Screamin' and yellin' and lickin' his chops
He never runs he just stumbles and hops
Just out of prison on six dollars bail
Mumblin' at bitches and waggin' his tail
Words by Robert Hunter and Ron Mckernan
Music by Ron Mckernan and Phil Lesh
First performed (?) 1-27-67 Avalon Ballroom, San Franciso, CA
Final performance 4-29-71 Fillmore East, New York, NY
Grateful Dead song lyrics copyright Ice Nine Publishing Company, Inc.

---
Appeared On
Dick's Picks Volume 4, 1996 (2-13/14-70)

Ladies and Gentlemen..., 2000 (4-29-71)

Dick's Picks Volume 22, 2001 (2-23/24-68)

Fillmore West 1969 - The Complete Recordings, 2005 (2-27 thru 3-2-69)

Two From The Vault, 2006 (bonus track) (8-24-68)

Road Trips Vol. 2 Number 2, 2009 (2-14-68)
---
Favorite Versions
02-14-68 Carousel Ballroom, San Francisco, CA

08-24-68 Shrine Auditorium, Los Angeles, CA

09-02-68 Betty Nelson's Farm, Sultan, WA

02-28-69 Fillmore East, New York, NY

11-06-70 Capitol Theater, Port Chester, NY

04-29-71 Fillmore East, New York, NY (final performance)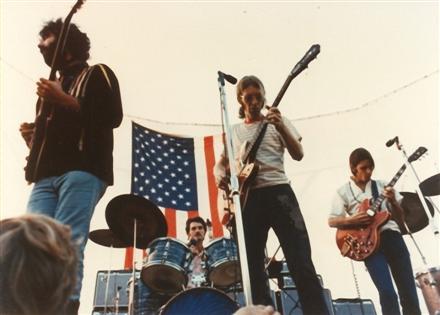 Betty Nelson's Organic Raspberry Farm, Sultan, WA 9-2-68
Photographer unknown