Live Grateful Dead Torrents
The Four Best Places To Find Them
Here's my top picks for the best places to find live Grateful Dead torrents. I use all 4 of these websites every day in my endless quest to collect every GD concert recording ever made.
---

Lossless Legs (shnflac.net)
LL is my number one favorite bittorrent tracker for several reasons. They often have the latest releases of new sources before anyone else. They also have one of the the best forums for GD related material found anywhere on the internet.
The people are incredibly friendly and helpful, sharing information freely and uploading shows out of nothing but a common passion for the music. The user interface of the website is incredibly functional due to the work of Quimbo - their volunteer deadhead programmer or "code monkey" as he likes to refer to himself.
There's a reason Lossless Legs is known as the "kind" torrent tracker. Highly recommended.
---

Etree is the oldest and largest bittorrent tracker for lossless digital audio on the internet. It's really the grandaddy of them all. They've been around forever.
Because of the age of the site the design looks fairly dated and the user interface is pretty clunky. They were probably the first tracker ever to offer live Grateful Dead torrents. But it's still a great place to get completely legal live concert recordings for free. They have the most diverse selection of bands of the four trackers that I use.
---

Workingman's Tracker (gdvault.com)
They're the newest of the bunch and were recently established by several members of the now defunct Jerome's Place. (Referring to Mr. Jerome Garcia of course!) It's the smallest GD tracker that I frequent at the moment but is shaping up nicely and membership is growing fairly quickly.
They also get some of the best newly released Charlie Miller sources before anyone else. If you don't know who he is I'll just say that if you download Grateful Dead torrents, the Charlie Miller sources are the ones you want!
---
The Trader's Den (thetradersden.org)
The Trader's Den is another large bittorrent tracker with 25,000 active members. It's similar to etree in size and scope of musical styles offered but has a much more modern user interface. It's design is highly effective and user-friendly.
This is my favorite place to get videos of the Dead and other bands. For some reason they seem to have the latest releases of audience shot and pro shot videos before anyone else. But be warned - If you think lossless audio files are big then your eyes will probably pop out your head when you see how big uncompressed video files are. A three hour Dead show usually requires 3 DVDs and can be upwards of 12 GB in size!
In conclusion - these four trackers really are the best of the bunch. Between them they upload more live Grateful Dead torrents on a daily basis than you'll probably ever need.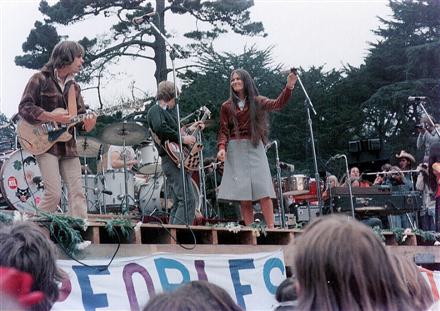 Golden Gate Park, San Francisco, CA 9-28-75
Photographer unknown.