Favorite Versions Of Grateful Dead Songs
This is the kind of information I often look for and I imagine many others do as well. I'm always on the lookout for killer versions of Grateful Dead songs that can bring on that feeling of spine tingling euphoria. Sometimes I literally get chills when I hear a particularly powerful version of one my favorite tunes.
My approach here is very broad. I'm including versions for many different reasons. A song may be played with extraordinary energy, some might have greater emotional power than usual and some may just be a technically perfect performance of a given song. I want to provide a variety of good examples of each song at different points in their evolution.
Reasons for not being listed include badly mangled lyrics (a few mistakes are OK if the performance is enthusiastic) or lack of a good listening source. Once sound quality deteriorates past a certain point it becomes impossible to determine the quality of the performance.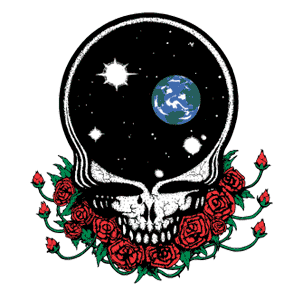 Basically what I'm doing is compiling lists of recommended versions from Deadbase, The Deadhead's Taping Compendium Volumes 1-3, and searches of Dead related forums and websites. I'm then going through my collection and listening to each one to see if I think it's worth including.

Please keep in mind that all of this boils down to just my own personal opinion and take it for what it's worth. Your mileage may vary.
I'm having an absolute blast doing this! This is a big part of the reason why I've set out to collect every single GD concert ever recorded. It's really a dream come true to be able to sit down, listen to every version of a certain song and hear how it developed over the years.
Considering the band had a repertoire of 300 some odd songs, this is a monumental task I've undertaken. It could take me years to complete this part of the site.
It still amazes me to have all these recordings stored on my computer and at my fingertips. I've currently got 15 large capacity hard drives hooked up and I'm still running short on room. At one of the GD bittorrent sites I frequent they refer to this as OCD (obsessive compulsive disorder) and I think that's a fairly accurate assessment. But what can I say, I love live Dead music!
For each listing I'm including:
Performance date.


Performance venue.


Brief listening notes describing why it's been included.


A link to the source I prefer on the Live Music Archive so you can stream the song and hear exactly what I heard.


A link to an online store if the show has been officially released in case you're interested in buying it - since they won't have it at the LMA.
This section of the site is a work in progress. More favorite versions of Grateful Dead songs will be added as time allows. All Grateful Dead songs copyright Ice Nine Publishing Company, Inc.
For the lyrics to the song as well as detailed background information be sure to check out Grateful Dead Song Lyrics.