Best Casey Jones Performances
Favorite Versions Of Grateful Dead Songs
Tracing the evolution of Casey Jones through it's years of live performance.
Click on the show to go to the Live Music Archive and listen to the Casey Jones Mp3 stream.

If the show has been officially released then the link will take you to an online store since they're not allowed to host it on the LMA.
1969
6-27-69 Veterans Auditorium, Santa Rosa, CA

Good example of an early version.


7-7-69 Piedmont Park, Atlanta, GA

Another weird early version.


8-2-69 Family Dog at the Great Highway, San Francisco, CA

Decent sounding recording of the different early version.


11-8-69 Fillmore Auditorium, San Francisco, CA - Dick's Picks 16


Starting to sound more like the version we're used to.


12-10-69 Thelma Theater, Los Angeles, CA

Excellent recording.



---
1970
1-2-70 Fillmore East, New York, NY

Fantastic sound quality, much shorter, starting to pick up the energy level towards the end of the song.


2-14-70 Fillmore East, New York, NY - Dick's Picks 4


Anyone that likes the Dead should own this classic, not so much for the Casey Jones which was still in it's infancy but for the quality of the shows in general.


5-2-70 Harpur College, Binghamton, NY - Dick's Picks 8


See comments above.


9-20-70 Fillmore East, New York, NY


11-8-70 Capitol Theater, Port Chester, NY

Excellent audience recording which is rare for this early in the band's career. It was around this time that they really started rocking out the finale of Casey Jones.



---
1971
2-19-71 Capitol Theater, Port Chester, NY - Three From The Vault


Classic show - highly recommended.


4-8-71 Boston Music Hall, Boston, MA

Phil's high in the mix which is always a good thing.


4-27-71 Fillmore East, New York, NY - Ladies And Gentlemen...


This 5 night run of shows is legendary for a number of reasons. It was the last time the band would play at the Fillmore East before it closed and they were on fire every night. The band was recording for their second live album (originally titled "Skull Fuck" before Warner Bros. nixed that idea) so the sound quality of all the recordings is phenomenal.

They played Casey Jones on four of the five nights - take your pick they're all fantastic. I believe it was here that the song really came into it's own. My favorite can be heard on the album Ladies and Gentlemen... and it's thought to be from the 27th. They repeat the chorus 7 times at the end - just listen to the screams of ecstasy coming from the audience. The boys were really at the top of their game here, I don't think they played one bad note the entire time. If you don't own it go buy it right now.


7-2-71 Fillmore West, San Francisco, CA

Closing of the Fillmore West.


8-6-71 Hollywood Palladium, Hollywood, CA

This show and the night before are classics. Not only are the performances amazing but they're represented by two of the finest audience recordings ever made.


11-7-71 Harding Theatre, San Francisco, CA

Another all time great '71 show, this is the first show on this list with Keith Godchaux and it's hot.


12-2-71 Boston Music Hall, Boston, MA

Sick version, Keith really adds a lot to Casey Jones, as he does to everything. You can hear how much fun they're having with their new piano player - they get so into it they decide at the last minute not to end the song at the usual spot and Jerry tears into a red hot solo, it might have been the result of a mistake but the recovery more than makes up for it.


12-9-71 Fox Theatre, St. Louis, MO

With the addition of Keith's piano playing Casey Jones finally reached perfection, he shines here and they repeat the final chorus seven times.



---
1972
4-14-72 Tivolis Koncertsal, Copenhagen, Denmark

I prefer the more full and balanced sound of the Bertha remaster.


4-24-72 Rheinhalle, Duesseldorf, West Germany - Rockin' The Rhein


It's Europe '72 in all it's multi-track glory, what more needs to be said? You should really own this.


5-26-72 The Strand Lyceum, London, England

More Europe '72 goodness.


8-27-72 Old Renaissance Faire Grounds, Veneta, OR

The famous Springfield Creamery benefit that's on many people's short list of best shows ever. I like the Bertha version even though it's the most processed. With three different main sources and several remasters available it's really just a matter of personal taste - they all sound pretty good.


9-17-72 Civic Center, Baltimore, MD - Dick's Picks 23


Very high energy, Keith can be heard jamming out nice an loud in the mix. Another '72 gem you shouldn't be without.


10-18-72 Fox Theatre, St. Louis, MO

Kick ass encore that goes on and on until it explodes - they just don't want to stop playing. Casey Jones definitely belongs in the encore slot.



---
1973
2-22-73 University of Illinois, Champaign-Urbana, IL

Another raging encore that just won't quit.


3-31-73 War Memorial Auditorium, Buffalo, NY

They definitely found the right spot for this tune when they started closing the show with it.


7-1-73 Universal Ampitheater, Los Angeles, CA

One of the best audience recordings I've ever heard. It's just like you are there.


11-10-73 Winterland, San Francisco, CA - Winterland 1973: The Complete Recordings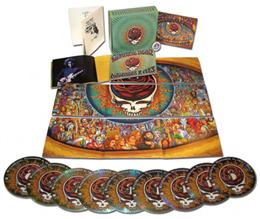 Incredible encore to an incredible show in perfect sound quality. What more could you ask for?

Forget rent and groceries, you NEED this boxed set.







---
1974
6-16-74 State Fair Grandstand, Des Moines, IA

Keith's playing some sort of organ or electronic keyboard rather than piano which is kind of weird but it still rocks.


6-23-74 Jai-Alai Fronton, Miami, FL

I like the matrix version, it adds some life to the soundboard. '74 board tapes tend to be very dry because of the noise canceling mics they were using that year.


7-29-74 Capital Centre, Landover MD

Another nice matrix with lots of fat funky bass from Phil.


9-21-74 Palais des Sports, Paris, France


10-17-74 Winterland, San Francisco, CA - Grateful Dead Movie Soundtrack


Flawless performance from the famous 5 night "retirement" run at Winterland. Incredible sound quality from the 16 track master reels. A must own.



---
1977
10-2-77 Paramount Theatre, Portland, OR

First time played in three years and an extraordinary performance. Probably the longest version they ever played. Sounds like Jerry forgets the lyrics half way through but it's barely noticeable. He launches into an extended jam while he tries to remember the words. It doubles the normal length of the song and makes it one of the most unique versions ever.

One of the great things about this band is they could improvise at the drop of a hat and cover their mistakes - even making it sound like they weren't mistakes at all. Oh yeah and this is a stellar Betty board.


10-28-77 Soldiers And Sailors Memorial Hall, Kansas City, MO

Prepare to reach rock and roll nirvana. Definitely a candidate for best Casey Jones ever - they sing the final chorus 12 times which has to be the record. The closing crescendo is INSANE - it just keeps going, getting more and more intense until they achieve lift-off. Another heavenly Betty board.



---
1978
12-31-78 Winterland, San Francisco, CA - The Closing of Winterland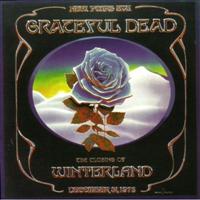 Kind of a laid back, hanging out on the front porch with a smoke and the refreshing beverage of your choice feel to it.

Another all time great marathon style show that was conveniently recorded for posterity. You can't go wrong buying this album.

Better yet get the DVD
and watch some of the best footage available of the band from the '70s.



---
1979
1-11-79 Nassau Coliseum, Uniondale, NY

Killer audience tape of a high energy show - sounds just like your standing on the floor at Nassau Coliseum in 1979.


11-2-79 Nassau Coliseum, Uniondale, NY

First show on this list with Brent and a great version of Casey Jones. The band sounds completely revitalized with a new keyboard player. While I'm not really a fan of Brent's carnival like sound at this point in the band's career, he made an immediate and significant improvement to the vocal harmonies. Anyway, it wasn't long before he changed his sound and became an indispensable part of the group.


12-28-79 Oakland Auditorium, Oakland, CA

Great SBD recording from an awesome run of shows. The band sounds much more together and into it than they did during the last few months with Keith, due mostly to Brent's enthusiastic playing and singing.



---
1980
11-29-80 University of Florida, Gainesville, Florida

Perfect AUD of an incredibly powerful show. The second set will leave a smoking crater in your mind's eye. This is one of those AUDs that sounds better than any SBD ever could. When you can hear the band clearly, nothing compares to being surrounded with 20,000 howling fans. Seriously, if you're smart you'll go download the FLACs from the archive right now. The Casey Jones encore is almost like a footnote after that monster second set.



---
1981
7-10-81 St. Paul Civic Arena, St. Paul, MN

Another nice AUD.



---
1984
6-26-84 Merriweather Post Pavilion, Columbia, MD

First time played in two years and the crowd goes nuts. Jerry and Brent jam out the ending. One hell of a way to open a show.



---
1992
12-16-92 Oakland Coliseum Arena, Oakland, CA - Dick's Picks 27


In '92 they brought Casey Jones back after not playing it for 8 years. This was the best of the three they played that year.



---
1993
3-27-93 Knickerbocker Arena, Albany, NY

Final performance - not bad for '93. Definitely worth a listen.