Grateful Dead Mp3 Files
Do You Really Want Them?
Grateful Dead mp3 files aren't too hard to find. The question is do you really want to? Why download mp3s when you can easily get any Dead show you might want in a lossless format with pristine sound? (The problem with mp3 is that during the conversion process some of the information present in the original recording is permanently lost. This degrades sound quality.)
Possible Reasons Why You Might Want Mp3s:
You're short on storage space. (Lossless files are BIG).
You're not a hardcore tape collector (I do realize that not everyone has mental health issues like me).
You just want some Dead tunes for your portable player. (I don't use one but I know lots of folks do).
The smaller file sizes are much quicker to download. (My computer stays on 24/7 with torrents running constantly so this isn't an issue for me).
If any of the above are true for you then I guess Grateful Dead mp3 files would make sense. In that case I would just buy and download the official releases of live shows from someplace like Amazon.com
. Or you could buy the CDs
, rip them to your hard drive and convert the .wav files to mp3 like you would with anything else.
Personally, I really like having the actual CD to play on my home stereo. Mp3s just don't sound as good on a high quality sound system. Also, I love the album art and liner notes. Plus you've got a backup if your hard drive crashes or your digital files accidentally get erased.
However, I'm betting that if you've found your way to this website then you're probably more than a just a casual Grateful Dead fan. You may not be an obsessed tape collector like me but I bet you probably already have the official releases. I bet you're looking for some stuff you've never heard before. So I'm going to focus on mp3 downloads of recordings that you can't buy in a store.
The Grateful Dead Archive
The number one place to get free Grateful Dead mp3 files online is the Live Music Archive (LMA) at archive.org.
The LMA is one of the coolest websites I've ever seen. It's like a paradise for people who download, collect and listen to live concert recordings. If you've never been there it can be a bit overwhelming at first. This is no rinky-dink Grateful Dead mp3 site. It's part of the Internet Archive - whose mission is to "build a digital library of internet sites and other cultural artifacts in digital form." This is a massive undertaking which involves the Library of Congress and the Smithsonian among others.
The LMA is the section of the Internet Archive that is concerned with documenting recordings of live shows. They also store copies of the shows on their servers and provide them for download. The Dead were the most recorded band in history and their fans basically created the whole taping scene which flourishes to this day. So it's no surprise that the Archive contains more recordings of the Dead than of any other band. All the recordings are available in lossless (SHN or FLAC) or lossy (Ogg Vorbis or VBR mp3) format. This is without a doubt the most complete collection of Grateful Dead mp3 downloads available anywhere.
A Little Bit Of History - The LMA Debacle
The only drawback here (and it's a big one) is that the soundboard (SBD) recordings can only be streamed and are not available for download. For a while you could download the SBDs but in November 2005 Grateful Dead Merchandising asked that their recordings be taken down. I guess they were a little disturbed to find out that the music which they were planning on selling to support their retirement was so easily available for free.
This is understandable to me now - of course the band deserves to profit from the music they worked their whole lives to create. But at the time it was a huge blow to tape collectors and fans - some took it very personally.
At first ALL recordings were taken down but after a gigantic uproar from angry deadheads online and in the press, the band allowed the audience (AUD) recordings to be put back up. After all, they did allow taping at their concerts. Technically the recordings are the property of the tapers who made them. Plus they shouldn't have much impact on album sales because the SBDs often sound better (but not always).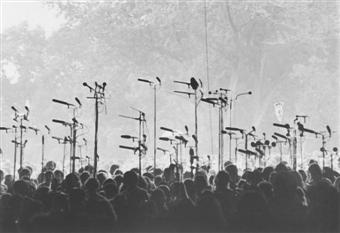 Initially I was as disturbed by this as everyone else (how dare they?). But then I found that the SBDs are still pretty easily available if you know where to look. And there are still thousands of audience recordings available from the LMA. Some of these actually sound better than the SBD version of the same show. However, Grateful Dead mp3 SBDs have become much harder to find.
Soundboard Versus Audience Recordings
I used to be a SBD snob but I've had a serious change of heart. The widespread availability of low gen AUD tapes has really affected my thinking. The lossless files that are available are usually directly from the master tapes and many sound fantastic. I find many SBDs have virtually no crowd noise at all, making them sound sterile and lifeless. I get a huge kick out of hearing the crowd roar after Jerry lets it rip with a really sweet solo. As far as I'm concerned a really good recording made from the audience is the closest you can get to actually being there. The only definite exception to this would be the Betty boards - SBD recordings made by Betty Cantor-Jackson who was a sound engineer for the band in the 70's. Nothing sounds better than those babies. If you've heard Cornell 5-8-77 then you know what I'm talking about.
If you want SBD tapes you're going to have to get familiar with bittorrent or other methods of file sharing if you aren't already. But you're not going to find many Grateful Dead mp3 files available through bittorrent. Tape traders aren't interested in mp3s - they want the original full resolution source files. Most reputable Dead torrent trackers don't even allow mp3s at all. By reputable I mean sites that only allow LEGAL recordings - they're the only sites that I recommend.
There is one good place I know of to download Grateful Dead mp3 soundboards. It's the free stash section at nugs.net. They have a very small but still very cool selection of shows available for download there in mp3 form.
For most SBD mp3s you'll have to get the lossless files and convert them to mp3 yourself. If you do this though, you should seriously think about keeping the original FLACs or SHNs because you'll need them if you ever want to share them with others online.
Update
I recently discovered an even better place to find SBD mp3s. It's The Lost Sailor's Pub - a GD forum where they have a huge selection of shows to choose from. All you have to do is register and you can download to your heart's content. Definitely recommended!