Grateful Dead Tabs
They're Not What You Might Think
There seems to be a pretty high demand for Grateful Dead tabs out there. And no, I don't mean the kind that comes on blotter paper. My days of experimenting with those kinds of tabs are long past. I'm talking about guitar tablature. A lot of folks are looking for help learning to play Dead songs and I've always been one to give the people what they want.
Grateful Dead tabs are a great way to get started learning your favorite tunes on guitar. But they won't be much use unless you know how to read guitar tablature.
The Online Guitar Archive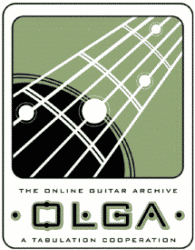 The Online Guitar Archive used to be the best place to find guitar tabs online. It was a huge tablature repository where guitarists would post songs they'd tabbed out for other guitarists. However in august 2006 they received a cease and desist letter from the National Music Publishers Association which claimed they were guilty of copyright infringement. Apparently the music industry is afraid that free guitar tab sites are hurting sales of printed tablature songbooks. So the Online Guitar Archive complied and voluntarily shut down.
However the NMPA's lawyers didn't really accomplish much because many other similar sites have sprung up in it's place. All they did was shut down a reputable non-profit site and create a big market for sketchy sites hosted in other countries. When are they going to figure out that sites like OLGA actually help the industry by generating interest in music and guitar playing in general? More budding guitarists = more potential customers for their tablature books.
Ultimate Guitar
Anyway, a good alternative for Grateful Dead tabs is Ultimate Guitar.com
Ultimate Guitar is an enormous site that covers almost every popular band's music. It has a huge community of guitarists - their forum has almost a million members! Pretty much all the same exact tabs that were on OLGA can still be found there. It looks like they were actually copied directly from OLGA at some point.
Dark's Grateful Dead Tabs
As for sites that focus specifically on the Dead - by far the best one I've found is Dark's GD Tabs at www.jdarks.com.
He wrote all the tablature on the site himself from scratch while learning the songs. His tabs are much more thorough and much more accurate than any I've seen outside of an officially published book. He also posts instructional videos for learning Dead songs on Youtube and seems like he really knows his stuff. Plus, from checking out his website he just seems like an all around great guy. I especially like the Credits page on his site and the wry sense of humor that it displays.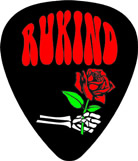 rukind.com
Another great site concentrating on Grateful Dead tabs is rukind.com.
They cover a lot more songs than Dark's but the quality of the tabs isn't nearly as good. They tend to be very basic, just enough to get you started. But they do have a pretty active forum focused only on learning Dead songs where you can probably find a lot of help and support.
Official Tablature Books
Of course, the best Grateful Dead tabs will still be found in their officially published books of tablature
. If you're serious about learning to play Dead songs on the guitar you're probably going to want to buy a few of these songbooks. Plus it's the right thing to do because the surviving members of the band get royalties from these books. I'm all for supporting the artists. I think it's very cool that they continue to benefit from the 30 years of hard work they put in creating and performing this wonderful music.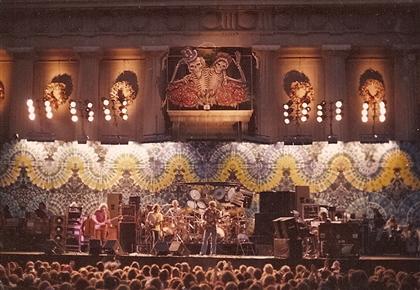 Greek Theater, Berkeley, CA 9-13-81
Photographer unknown