Free Grateful Dead Music
How To Get More Than You
Could Listen To In A Lifetime
Bittorrent is my favorite way of acquiring free Grateful Dead music. This is how I've managed to amass a huge collection (6 terabytes and counting) of live lossless concert recordings over the past few years.



This method is perfectly legal as long as you're not sharing officially released material. The online GD tape trading community is very careful about this and respects the copyright laws. No reputable torrent tracker that I've come across has ever shared officially released albums or other intellectual property. First of all, it's just plain wrong and second of all they don't want their website shut down by the recording industry.
Luckily there is an enormous amount of unreleased Grateful Dead concert recordings in circulation. If you're obsessed enough to want to do so, you could collect a copy of nearly every Dead show ever played. And if you're crazy like me, you can get multiple different sources of each show!
Lossless Audio Files Are Big
Free Grateful Dead music is generally shared in the form of lossless FLAC (Free Lossless Audio Codec) or SHN (Shorten) files. Lossless audio files are huge compared to mp3s. They take up a lot more space on your hard drive. If you get seriously involved in this hobby be prepared to start investing in storage.
Thankfully, hard drive capacities keep getting larger and larger while the prices keep getting lower and lower. When I first began I had a 120 GB hard drive. I've bought 14 more since then. The last one had a capacity of 1 TB and cost the same as my first one!
Lossless files are used because they are the most faithful to the original recording. When you compress an audio file using the mp3 format some of the information in that recording is permanently lost. This degrades sound quality. Lossless compression is true to its name in that it retains all the information in the recording - nothing is lost.
If you're interested I get my high capacity hard drives
at Amazon.
Many tape collectors consider themselves audiophiles and want to hear the best recordings reproduced faithfully on high quality stereo equipment. Sound quality is very important to them. They refer to any compressed music files in a non-lossless format as "lossy".
Some Deadhead tape traders also consider themselves to be archivists. They want to preserve this free Grateful Dead music that they love so much in the highest quality possible for future generations. Therefore no one trades lossy files online and mp3s are generally unwelcome at Grateful Dead bittorrent trackers.
It's perfectly fine to create mp3s from the lossless files for your own personal use such as with an Ipod.
But you should never trade them and you should always save the lossless files. You can either keep them on your hard drive or burn them to dvd+r
. I do both, so I don't lose anything if one of my hard drives dies. It's always a good idea to back up important data.
If you don't save your lossless files then you won't be able to share them later because no one will want your mp3s.
Install A Torrent Client
In order to get free Grateful Dead music using bittorrent, first you have to download and install a torrent client. This is the file sharing program that you use to connect to the torrent tracker. My favorite is utorrent
It's free, easy to use for beginners, and requires very little system resources so it won't slow your computer down. It also has many advanced features if you're a power user.
Forward Your Ports
Next you'll want to configure your firewall and router to allow bittorrent traffic. You'll get much better download speeds if you forward your ports. A good website for beginners to learn how to do this is portforward.com
Find Some Music
Then you'll need to find some free Grateful Dead music to download. To do this you'll need to visit a torrent tracker that specializes in live lossless concert recordings. Click here for my favorite places to find live Grateful Dead torrents
Once you've gone to a tracker and found some files you want to download then all you have to do is click on the link for the .torrent file. This will open up utorrent so you can point it to wherever on your computer that you want the file to be stored.
Let There Be Songs To Fill The Air
When your torrent has finished downloading you can listen to it. If you want to listen on your computer without first converting the files to .wav format then you will need a media player with SHN and FLAC plug-ins like Winamp or Foobar. In order to burn it to CD to listen on your stereo or in your car you will have to convert the compressed files to .wav with a program like Trader's Little Helper or FLAC Frontend. You can find an excellent list of links to programs you can use here: Etree.org - Software You Need
Don't Forget To Share Your Free Grateful Dead Music
However, make sure that you leave the torrent running for a while on your computer so others can download it from you. This is very important because it's how bittorrent works. You should continue seeding the file until you've reached a share ratio of 1. This means that you've uploaded as much as you've downloaded.
In bittorrent terms, people who shut down their torrents before they've shared back as much as they've taken are called "hit and run leeches". This is severely frowned upon in the online trading community and can actually get you banned from some trackers. Be sure to read the FAQ at each tracker you use in order to stay out of trouble.
So there you have it - my number one favorite way to find more free Grateful Dead music than you could possibly ever listen to. Have fun but be careful - this hobby can become very addictive! And don't forget to back up your music
(this bears repeating). You'll be sorry if you don't! Trust me on this...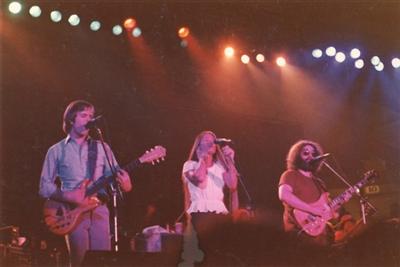 5-6-78 Patrick Gym, University Of Vermont
Photo by Shana Schwartzberg