Grateful Dead Photos
Catching Lightning In A Bottle
When discussing the Dead the word "most" seems to come up quite often. They were the most successful touring act in the history of rock music. The were the most recorded human beings ever to walk the planet. They had the most loyal fans of any band.
It's no surprise then that the same applies to Grateful Dead photos. Their massive popularity combined with the longevity of the band virtually guaranteed that they would be some of the most often photographed musicians ever to appear on stage.
They're certainly not the most photogenic group - more closely resembling the Fabulous Furry Freak Brothers than typical rock stars - but for me that's part of their appeal.
(Above) 7-27-73 On the way to Watkin's Glen.
Photo by Suki Coughlin
None of the band members (except maybe Bob Weir) had any desire to play the rock star role. Some, like Jerry Garcia, actively avoided the spotlight. For most of their career they appeared nondescript, dressing casually like they would in everyday life and keeping it real. They were just a regular bunch of guys getting up on stage and blowing your mind night after night.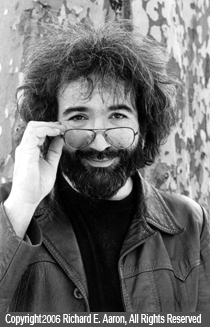 Nearly all of the most famous rock photographers have shot Grateful Dead photos at some point in their careers. Their work has produced some of the most well known classic rock photos of all time. There's that word "most" again!
Probably the best place to find Grateful Dead photos online is the band's official website dead.net. They have an awesome collection of rock concert pictures in their archives that cover the band's entire 30 year history. They're very high quality and are well organized - by year and photographer - which makes them easy to browse.
Over the years I've done extensive research and have compiled a list of every photographer I could find that offers prints for sale online. I'm sure it's not complete but I know it's fairly comprehensive.
Photographers With GD Rock And Roll Photos Online
Adrian Boot
Amalie Rothschild
Baron Wolman
Bob Seidemann
Bill Smythe
Bob Minkin
Clayton Call
Ed Perlstein
Gene Anthony
Gregg Nixon
Henry Diltz
Herb Greene
Jay Blakesberg
Jim Anderson
Jim Marshall
Joe Ryan
Joel Eisenberg
Joseph Sia
Jorgen Angel
Ken Friedman
Kevin R. Papa
Larry Hulst
Mark Currie
Mary Ann Mayer
Michael Brito
Michael Zagaris
Peter Corrigan
Peter Simon
Richie Pechner
Richard E. Aaron
Richard McCaffrey
Rob Cohn
Rosie McGee
Stephen Dorian Miner
Steve Schneider
Suki Hill
Susana Millman
Tim Owen
Tony Stack
(Above) 6-19-93 Fireworks at Soldier's Field, Chicago, IL
Photo By Bill Smythe
The rock band photos of any the above GD photographers can easily be found online (at the time of this writing) with a quick Google search.

One of the best places I've found to buy prints is Wolfgang's Vault
. For further reccomendations on where to buy Grateful Dead photos be sure to check out these articles:




Affordable Grateful Dead Pics

Affordable GD Pictures Part 2

Inexpensive GD Rock Music Pictures Part 3
Shooting Rock Concert Pictures Is No Walk In The Park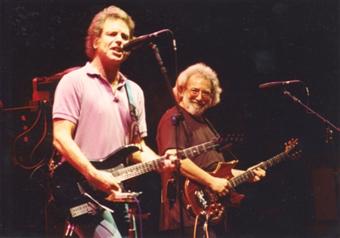 I'm not a photographer but from what I've read it's not easy to take rock and roll photos at concerts.
Press photographers are usually allowed to take pics during the first three songs only - not giving you much time to warm up. You can't use a flash and lighting conditions are less than ideal. The band isn't always thrilled to have you in their faces. Security can be quite aggressive enforcing the rules and fans are jealous because you're closer to the stage than they are. You'll probably have to waste a lot of film just to get a couple good shots.
This all adds up to a very challenging situation - kind of like catching lightning in a bottle.
(Above) 3-27-93 Capitol Centre, Landover, MD
Photographer unknown
Taper's can probably relate. If you're taping or taking pictures you're under a lot of pressure so it's hard to relax and enjoy the show.
But - like a good tape - there's something amazing about good rock and roll photos. You can almost see the electricity in the air generated between the audience and the musicians. What was only a split second of a performance becomes captured forever.
That's the thing about Grateful Dead photos - they can transport you back to the excitement of that moment in time.
6-4-78 Campus Stadium, Santa Barbara, CA
Photo by Steve Schneider