Affordable Grateful Dead Pictures
Part 2
Many of the Grateful Dead pictures available online are extremely expensive. Here is part two of my article on affordable rock star photos for Deadheads on a budget.
---
Kevin R. Papa - www.newjerseyrock.com
Kevin R. Papa is a lifelong music fan who took along his camera to many of the concerts he saw. He started in 1975, mainly attending shows near his home in the New Jersey area. He offers some of the least expensive Grateful Dead pictures to be found on the web - only $20 for an 8.5 x 11 print! He doesn't claim to be a professional photographer on his website so I'm not sure if he shoots rock star photos for a living. However many of his pictures are excellent and look as though they could have been professionally shot. I really like his stuff - he took my number one all-time favorite picture of Jerry which I'm including here: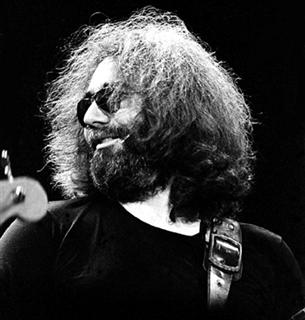 The Barn, Rutgers University, New Brunswick, NJ
12-4-77 (Jerry Garcia Band)
Photo by Kevin R. Papa
---
Larry Hulst - www.hulstphotography.com
Larry Hulst is a Vietnam veteran who has been taking pictures of rock stars since 1969. Although the spelling and grammar on his website are atrocious, there's nothing wrong with his photography skills. He has accumulated 35 years worth of rock 'n roll photos which have been featured in many prominent music publications. His work includes quite a few awesome Grateful Dead pictures dating back to the early '70s. Best of all - his prints are very inexpensive. Like Kevin Papa he only charges $20 for an 8 x 10 photograph.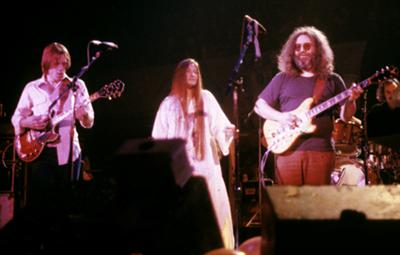 Winterland Arena, San Francisco, CA - October 1978
Photo by Larry Hulst
---
Michael Brito - classicrockconcertphotos.net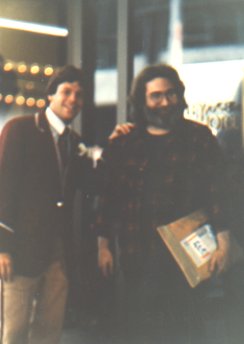 Michael Brito is a passionate fan of rock music who actually works as a bellboy at a prominent hotel in Manhattan. He has been attending concerts all over the country for most of his life and has taken rock star pictures at most of them. There are some great photos of him with various celebrities on his web site, including shots with Jerry Garcia and Bob Weir. Apparently he met Jerry when the band was in town for some shows at Madison Square Garden. Garcia was staying at the hotel where he works and called room service for a pack of smokes. Always prepared, Michael brought along his camera when he delivered the Camels to his room!
Brito is also a professional music photographer who was once with Starfile Photo and now works with Globe Photo. His photos look great and are mostly shot up close from the first few rows. How he always managed to get such great seats I don't know. The Grateful Dead pictures available on his website are only from 5 different shows but they are great shots and they won't cost you an arm and a leg. (Only $25 for an 8 x 10 photo.) He actually says that he is making a point of keeping the prices low so they're accessible to fans. I think he deserves major props for that - photographers like him are what this article is all about.
---
Peter Simon - www.petersimon.com
Peter Simon is a professional photographer who happens to come from a very well known family. His father was Richard Simon of publishing giant Simon and Schuster. His older sister is singer Carly Simon. He's been shooting photos since he was twelve and his career spans more than forty years. He lived through the Sixties and started seeing the Dead in '68. He's responsible for my number two all-time favorite picture of Jerry: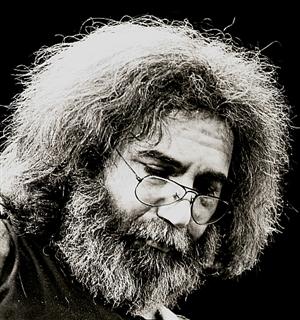 Classic closeup shot of Jerry - 1980
Photo by Peter Simon
He became heavily involved with the band - even being their tour photographer in 1977 when he was working for Rolling Stone. In the early 80's he collaborated with David Gans on a book about the Dead called Playing In The Band. I own the book and it's definitely recommended reading. It mainly consists of interviews with the band members that are very enlightening and entertaining.

Because he spent so much time through the years with intimate access to the group he was able to get some really candid shots of the band goofing around backstage and just hanging out.
Aside from Grateful Dead photography, he's taken tons of amazing rock music pictures and has also extensively covered the Jamaican Reggae scene. While his prices are higher than the previous three photographers ($125 for an 8x10 print) he still comes in under my $200 limit for Grateful Dead pictures. Being somewhat of a celebrity himself he could probably get away with charging a lot more so I think that's pretty reasonable.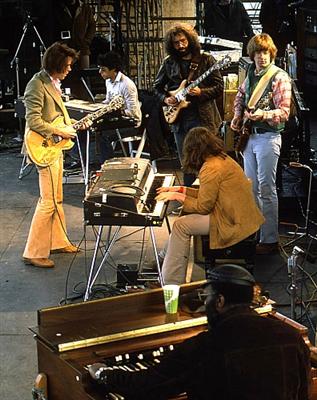 SNACK Benefit, Kezar Stadium, San Francisco, CA
with Merle Saunders 3-23-75
Photo by Peter Simon