Affordable Grateful Dead Pics
For The Deadhead On A Budget
When I was surfing around the web looking for prints of Grateful Dead pics to frame and give as Christmas gifts I discovered that there is a huge range of prices out there. Many are extremely expensive while others are much more reasonable. Some of the classic rock photos I found were $750 - $1500 at the upper range - which effectively puts them out of reach of the average person.


I mean c'mon - $1500 for a single photographic print? My first car cost less than that! I'd really have to have money to burn in order to pay that much for something I'm basically going to use to decorate my wall. Everyone knows that photos don't really cost that much to develop. Since Deadheads aren't known for being especially wealthy, my only thought can be that these photographers don't really want to sell a lot of prints. Who knows, maybe they make a good living in other ways and don't want to spend all their time developing photos.

Anyway, I did manage to find quite a few photographers who offer Grateful Dead pics for $200 or less which is about what I can afford and what I would consider reasonable for the average person. I'm including a list of them here for Deadheads on a budget - probably most of us I imagine...




---
Adrian Boot - www.urbanimage.tv
Adrian Boot is one of England's most well known rock photographers. He was a staff photographer for Melody Maker and also worked for Island records. He was hired by the GD to photograph their trip to Egypt in 1978 and pretty much all of the most famous photos from those concerts were taken by him. His Grateful Dead pics are quite affordable and they are all available for sale at urbanimage.tv - a website which he co-founded. He also has some killer Bob Marley photos as well as photos of many other reggae stars from his time at Island.
Jerry Garcia in Egypt 1978
Photo by Adrian Boot
---
Bob Minkin - www.minkindesign.com
Bob Minkin followed the band as a fan for many years and is probably one of the most well known GD photographers. He worked for Relix Magazine and started his own company Minkin Design - a full-service web design and graphic studio. He also worked for the band as the package designer for many of their CD and DVD releases including the Dick's Picks series. He was lucky enought to attend the OOPS concerts in 1981 at The Melkweg in Amsterdam and has the photos to prove it. You can read his first hand account of the shows at his website. You can also find a ton of very cool and affordable Grateful Dead pics there.
Red Rocks Amphitheater, Morrison, CO 7-27-82
Photo by Bob Minkin
---
Jim Anderson - www.photog.com
Jim Anderson is another of the best known and most prolific photographers of the GD scene. His work spans concerts from the 70's - 90's and has been published in many Dead related books and magazines as well as in the package designs for several of the band's official releases. Like Bob Minkin, he also worked with Candace Brightman and many of his rock concert pictures from the 90's are spectacular lighting design shots of the stage done for her and the band.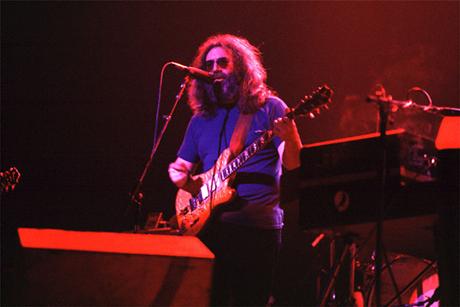 Shea's Theater, Buffalo, NY
Photo by Jim Anderson
---
Joe Ryan - www.ryanfoto.com
Joe Ryan offers Grateful Dead pics from the band's final days. They're all from '92 - '95 which I consider to be the band's worst period. Jerry often looked depressingly old and unhealthy due to his years of hard living. His playing was in steep decline and the band's performances suffered greatly. Not to say that there weren't some great moments but they were much fewer and further between. Despite this there's still some very interesting and reasonably priced prints available at his site. Jerry's health did recover briefly in '93 and Ryan managed to shoot some excellent rock and roll photos.
Giants Stadium, East Rutherford, NJ 6-6-93
Photo by Joe Ryan
---
Ken Friedman - www.wolfgangsvault.com
Ken Friedman
was a staff photographer for Bill Graham Presents for 18 years which gave him the opportunity to take thousands of amazing rock band photos. It must have been a dream job for any music fan. Tons of his photos are available at Wolfgang's Vault - which of course owns the rights to the Bill Graham archives. While some of the photos at the Vault are quite expensive most of those shot by Friedman are very reasonable.

I actually ended up buying a couple prints of photos taken by him from their website. I was very pleased with the entire transaction. I got a great deal during a Christmas sale they were having for 40% off. They arrived quickly and were very well packed for shipping. The quality of the prints was quite high and they framed up beautifully. They made awesome christmas gifts and the people I gave them to were thrilled. Here are some photos of the prints I received:
Summer Music Festival, Squaw Valley, CA 8-24-91
Photo by Ken Friedman
This is what the prints looked like when they arrived. The were in a thick, clear plastic envelope which was taped to the inside of a sturdy piece of cardboard and placed inside another strong cardboard envelope. As you can see the chances of these prints being damaged during shipping are pretty slim.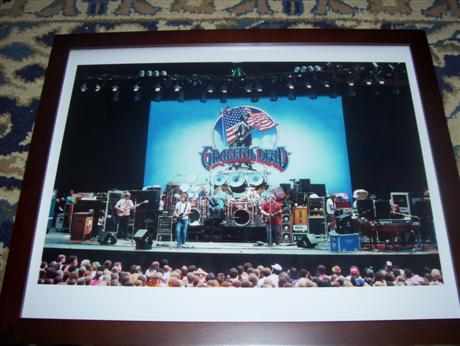 Greek Theater, Berkeley, CA 6-14-85
Photo by Ken Friedman
And this is how they looked after framing - pretty slick eh? If you're looking to buy some nice affordable Grateful Dead pics to hang on your wall I can highly recommend Wolfgang's Vault
.