Collecting Grateful Dead Tapes
We're Living In The Golden Age
This is a great time to be a Deadhead. Finding Grateful Dead tapes is easier than ever. What used to take hours of work can now be accomplished with the click of a mouse button.
Tape Trading The Old Fashioned Way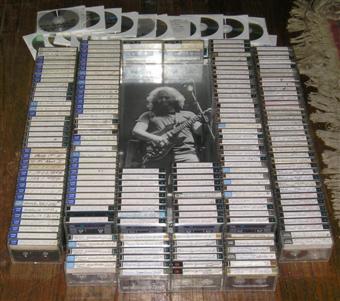 Back in the day collecting Grateful Dead tapes was very time consuming. First you had to find someone willing to make copies for you or let you borrow them to do it yourself. Most people were very reluctant to lend out their high quality tapes for fear they would never be seen again. So you had to go buy some blank tapes to give them and then wait for them to find time to dub them for you. If they didn't live nearby you had to use snail-mail to send them out and then patiently wait for them to return. If you didn't know the person you were trading with you just had to have faith that they would actually return them at all.
Fortunately, most Deadheads are kind and honest folks. Many would even make tapes for newbies who had nothing to trade if they just sent them blank tapes and return postage. That's where the term B+P (blanks and postage) comes from, which you'll often hear in tape trading circles.
The actual act of dubbing cassette tapes takes quite a bit of time itself. Most collectors didn't like using the high speed dubbing option found on many tape decks because it could degrade sound quality. So copying a 90 minute tape takes just that - 90 minutes. That's just the first set of a Dead show! So you usually need two tapes minimum, 45 minutes per side. This can become tedious pretty quickly, especially if you're a hardcore taper like many heads that obsessively collected thousands of shows. Quality blank tapes like the Maxell XL-II's preferred by most tapers were not cheap either. So, over time you're talking about a major investment here.
Tape Trading In The New Millenium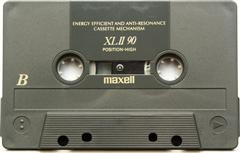 But the growth of personal computers with high speed internet access has changed all that, just as it's changed so many other things in our lives. Our Grateful Dead "tapes" aren't really even tapes anymore. Analog cassette tapes have gone they way of the dinosaurs.
For the 30 year history of the band analog magnetic tape was the primary media used for making concert recordings. So we still call them "Grateful Dead tapes" because that's what we're used to saying even though the term is no longer technically correct. Magnetic tape is rarely used for recording at all anymore, the possible exception being reel to reel decks used in professional recording studios. Nowadays we use digital mediums like CDs, DVDs, lossless FLAC files, and computer hard drives.
It used to take 3 hours to dub a show with cassette tapes and each time you copied a tape it degraded the sound quality. Now we can make a bit-perfect copy of a show in about 15 minutes at 5 minutes per CD! Even better, once the analog master tape has been transferred to computer hard drive, you can do just about whatever you want with it. Like instantly share it with thousands of other people through the use of file sharing programs like bittorrent.
Obviously this has taken Grateful Dead tape trading to a whole new level!
Digital Archiving
The other great thing about transferring tapes to the digital realm and sharing them with people is that it creates a permanent archive of that recording that could theoretically last forever. Cassette tapes physically decompose pretty quickly unless stored in a controlled environment, so eventually all those master recordings will be lost.
If you love this music as much as I do then that's a very disturbing thought.
The master copy (meaning the original recording itself) is the one you want to preserve because every time you copy a tape it degrades the sound quality until it reaches the point where they become unlistenable. So a second generation tape (a copy of a copy) won't sound nearly as good as the master and anything after that will have a lot of hiss.
But digital copies don't degrade in this manner. And if you have that perfect digital copy of the master tape residing on thousands of different computers all over the world, chances are good that the recording will never be completely lost. I don't think the internet is ever going away, unless humans become extinct, and in that case we won't need our Grateful Dead tapes anymore anyway!
Finding Live Grateful Dead Music Online
There are many ways to get your fix of Grateful Dead tunes online. Here's just a few of them: