Streaming Grateful Dead Radio On The Internet For Free
Another interesting option for streaming music online is Grateful Dead radio. At the time of this writing a Google search brings up two different websites: gdradio.com and gdradio.net.
Unfortunately, gdradio.com no longer seems to be running. It's been around the longer of the two and it used to be the official source for GD internet radio. However, the playlist hasn't changed in years and the links for the music streams aren't functional. It's too bad because I used to listen to it now and then and it was a really cool radio station. The website is still there but it appears to have been abandoned. This strikes me as odd - if they were going to close up shop why wouldn't they take the site down completely? It's somewhat of a mystery and leaves me thinking that there's a possibility it might be revived at some point.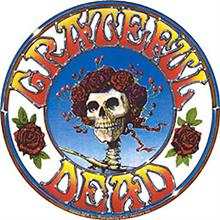 So that leaves gdradio.net as the only real option for streaming grateful dead radio on the internet for free. (Another great option is the Grateful Dead channel on Sirius but that requires a paid subscription.) I've checked out the website along with the streaming audio and my opinion is that it's alright for free service. It's really not bad but I think it could be better. There are several reasons why I can't give it a wholehearted recommendation at this time (10/08).

(Update 3/09 - Since I first wrote this review I've been contacted by John, the owner of gdradio.net, and informed of some improvements to the site and an error in this review. Because of this I now feel that I can give the site my full recommendation. I'm leaving my original review of Grateful Dead radio intact below for the sake of continuity.)
Sound Quality
As I've said before, sound quality is crucial to my enjoyment of music. I should probably qualify that statement by letting you know that I'm very hard to please in this department. What sounds terrible to me may sound perfectly fine to others so don't let my opinion deter you from trying out this Grateful Dead radio station. That being said, I think the bitrate of the music streams at gdradio.net is insufficient. Maybe I've been spoiled by listening to lossless audio files from torrent sites for so long, but it just barely sounds adequate to me.

I can't really fault them for this because I know that large amounts of server bandwidth cost equally large amounts of money. And if they have lots of people that are all trying to listen at the same time then the amount of bandwidth necessary grows exponentially. So I'm not sure if increasing the bitrate of their audio streams is even an option for them. I imagine they're doing the best they can with the resources available to them.
Advertising
They do have ads in between songs while they're broadcasting. I guess this isn't much different than regular FM radio but it's still kind of a bummer. They also have some seriously tacky and annoying flashing banner ads on their website. I don't have anything against using ads in general or making money from your website. They are providing a free Grateful Dead radio station so unless they want to pay for that expensive web hosting out of pocket then they need to make money somehow. There's nothing wrong with profiting from hard work while delivering a service that people value. But there are much more subtle and effective ways of doing it - such as Google Adsense, Yahoo Publisher's Network, inline contextual advertising etc...
People get seriously turned off by those awful flashing banner ads - and the services I just mentioned have pretty much made them obsolete. I bet they would get much better financial results by replacing those outdated banners with some slick Google Adsense ads.

(Update 3/09 - When I was contacted by the owner of gdradio.net he informed me that I was mistaken about the ads in between songs. They actually play the ads between shows so as not to break up the flow. Also, the worst of the flashing banners on the site have been replaced with less annoying and more relevant ads. Because of these two improvements I now feel I can wholeheartedly recommend their service.)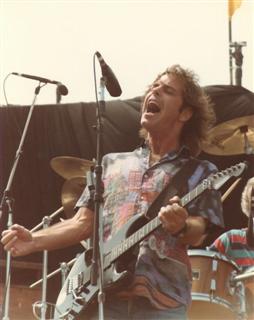 Content
At the time of this writing all they've been playing is Ratdog shows for days on end. This is just my opinion but I'm not a big fan of Bob Weir solo. It's too much like going to a Dead concert where they only play Bobby tunes - disappointing. Don't get me wrong, I love many of the songs that Bobby wrote and sang with the Dead. But even then the cheese factor could sometimes be a little overbearing. When he's got the whole show to himself the level of cheesiness goes right off the charts. The Dead as a whole were much greater than the sum of their parts. Without Jerry's soulful presence to temper Bob's more extreme "rock star" tendencies, I think he comes off as fairly self indulgent.
(Above) 7-14-85 County Fairgrounds, Ventura, CA
Photo by Brian Gold
I'm not sure how often they switch up their playlist so by the time you read this they may be back to playing mostly GD music. In that case I'd be much happier with their content. (Update - I checked back a few days later and they're back to playing classic Dead so you can safely disregard my criticism of their content.)
I hope I haven't sounded too harsh in this review. None of this is meant in a mean-spirited way or as an attack on the people behind gdradio.net. (Notice I did still provide a link to their site.) It's just constructive criticism. And it's also just one person's opinion - your mileage may vary. They're still streaming Grateful Dead radio for free after all - which is very cool in the grand scheme of things. With a few minor changes I think they would have an awesome Grateful Dead radio station. I'm sure they're a good bunch of folks - anyone who likes GD music enough to stream it online must be alright as far as I'm concerned.