Streaming Grateful Dead Concerts
They're Free At Wolfgang's Vault
Another sweet website for streaming Grateful Dead shows
is Wolfgang's Vault. They have a small but growing and very high quality selection of soundboard recordings in their Grateful Dead archive. There are concerts from many other fantastic artists as well including Jimi Hendrix, Janis Joplin, Santana, The Band, Miles Davis - the list goes on and on.
All the shows they offer were originally recorded by Bill Graham - the legendary concert promoter and the man who basically invented the rock and roll concert industry. His company Bill Graham Presents promoted about 30,000 concerts over the course of 40 years.
Graham was German and his name was originally Wolfgang. He changed it at age 18 after he came to America to escape the Third Reich. That's where the name comes from for the company and its website.
(Above: Photo of Bill Graham 7-7-86
from Wolfgang's Vault by Ken Friedman)
An Incredible Collection Of Memorabilia
Bill Graham documented thousands of the concerts he produced - in both audio and video - and then stashed them in his private vault for later use. He knew that his concerts were making cultural history and that the recordings would one day be extremely valuable. He also kept copies of all of his vintage concert posters as well as photographs that were taken at the concerts by his staff photographers and thousands of other priceless pieces of rock and roll memorabilia. He even kept a door from Winterland
when it closed in 1978!
When he died the contents of his collection were sold in one giant lot to William Sagan - the owner Wolfgang's Vault. I don't know about you but this completely boggles my mind - what I would give to be that guy! I love those psychedelic concert posters and all that other stuff that's rare and collectible. Just the thought of it practically makes me start salivating...
Sound Quality
Wolfgang's Vault uses an embedded media player for their streaming Grateful Dead concerts so you don't have to have a player installed on your computer. This is the only way you can access the streams - they don't let you use your own program to listen.
Overall I was satisfied with the sound quality but it could be better. It's definitely acceptable as far as streaming audio on the internet goes - I've heard much worse.

I've mentioned elsewhere that sound quality is very important to me - I normally only listen to lossless FLAC and SHN files.

I really wish they revealed the format and bit rate of their concert streams, I searched the FAQ and the forums but couldn't find anything. I think the Live Music Archive has slightly higher quality.
(Above: BG #74 O'Keefe Center 7-31-67
by James Gardner)
Some of the concerts at Wolfgang's Vault aren't available anywhere else - at least not in such pristine condition. This is because the master recordings sat in Graham's vault untouched for over 30 years. He died in a tragic plane crash in 1991, before he ever got around to using them for anything.
Why Can't We Download These Recordings?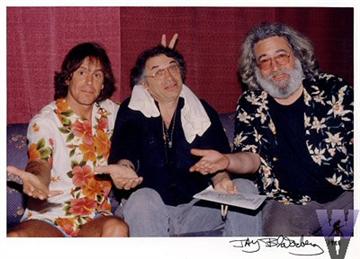 Unfortunately none of the streaming Grateful Dead shows are available for download. Some of the more minor bands have shows available for purchase but they haven't been able to work out the legal issues with most of the big name acts. I wouldn't hold my breath waiting for them to start offering digital downloads of the Dead, Jimi Hendrix or Bob Marley anytime soon - as much as I wish it would happen. But in the meantime they do offer hundreds of classic concerts from various bands that can be streamed.
(Above: Photo of Bobby, Bill and Jerry 1-23-88
from Wolfgang's Vault
by Jay Blakesberg)
If you want to hear streaming Grateful Dead music for free online then Wolfgang's Vault
is definitely a cool site to visit. For more information on live music streams check out my article on the number one way to listen to GD music online.