Inexpensive Grateful Dead
Rock Music Pictures
Part 3
Many of the rock music pictures found on the 'net will cost you an arm and a leg. Here is the third and final installment in my series on inexpensive Grateful Dead rock concert photos for Deadheads on a budget.
---
Richard Pechner - www.rpechner.com
Richie worked for the band as a member of the road crew. He was heavily involved with the planning and construction of the "wall of sound" - the groundbreaking concert PA system that they used in 1974. The band wanted to provide the best possible sound at their concerts and none of the sound systems available at the time were powerful or sophisticated enough. So they built their own from scratch. Actually they built two - so that while they were using one they could be setting one up for the next show at the same time. This was necessary because of their busy touring schedule and the amount of time it took to set the enormous thing up and then take it back down.
Richie had no background in audio engineering. He learned on the job from Owsley, Dan Healey, and Ron Wickersham. Because he had training in carpentry he became one of the crew that was responsible for building the hundreds of giant speaker cabinets they needed. He ended up helping run the shop that prototyped and then produced all the cabinets in the wall. The legendary sound system they created was one of the largest and most powerful ever built. It was also one of the best sounding - it was really an incredible achievement.
Unfortunately it proved impractical in the end. It required a huge road crew in order to transport the 75 tons of equipment from show to show. It was just too large and costly to maintain so the band retired it when they went on hiatus in October 1974.
A man of many talents, Pechner was also into photography. Many of the most well known vintage rock photos of the Wall of Sound were taken by him. He got some great shots of the system being set up on stage and the band doing sound checks at different venues. There's a whole bunch of Grateful Dead rock music pictures available at his Smugmug website for very reasonable prices. (8x10 - $25, 11x14 - $40, 16x20 - $75)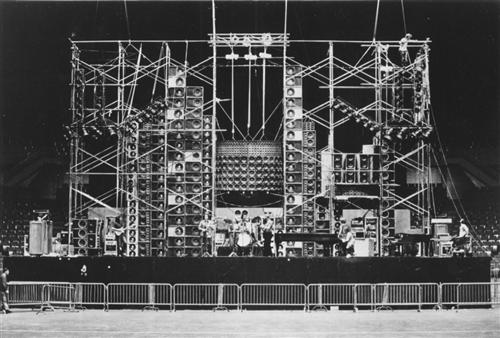 P.N.E. Coliseum, Vancouver, British Columbia 5-17-74
Photo by Richard Pechner
---
Robbi Cohn - www.deadimages.com
Robbi Cohn is a photographer who has fallen on hard times and currently works as a cashier at Wal-mart. It appears that she is trans-gender and for most of her life was known as Rob. She provides very little biographical information on her website which makes it tough for me to do much of a write up here.

Instead she talks about what it means to be trans-gender in our society, the prejudice she must overcome and the difficulty of finding a job. I can't even imagine what that's like but I'm sure it's not easy. A notice on her website states that she is attempting to sell all of her rock music pictures (framed photos, loose photos, negatives and slides) in one giant lot because she needs the money.
However, in the meantime, she has a huge portfolio of Dead concert photos available that cover the years 1984 all the way through 1995. Many of the photos are well known and have been published in books and magazines. The prints are available in a variety of sizes - even matted and framed - and are very inexpensive. (Prices vary based on the edition.)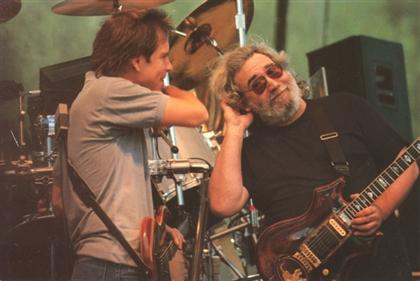 Town Park, Telluride, CO 8-15-87
Photo by Robbi Cohn
---
Stephen Dorian Miner - www.sdmphotography.com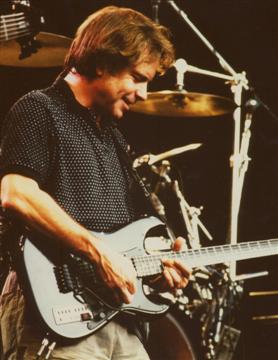 Stephen Dorian Miner started out taking rock band pictures as a fan on Dead tour and quickly turned it into a career. He had his first photo published when he was 22 years old. He went on to be a professional photographer working for GD fanzines and eventually being offered a position at Bill Graham Presents. This seems to be a path commonly taken by many of those known for shooting rock and roll pictures. It must have been a dream come true - What better job could they ask for?
Most of the Grateful Dead rock music pictures available at his site are from the late 90's. As I've said before, these weren't the bands best years. But his collection still contains a lot of cool photos and they're quite affordable. (8x10 - $25, 11x14 - $45, 16x20 - $100)
(Above) Shoreline Amphitheatre, Mountain View, CA 5-23-92
Photo by Stephen Dorian Miner
---
Susana Millman - www.mamarazi.com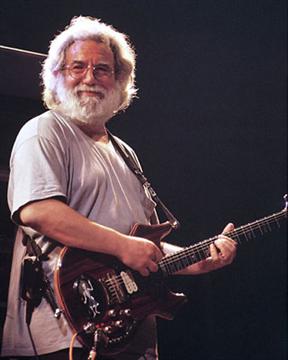 Susana Millman is a professional photographer and a huge deadhead. She got her start taking classic rock concert photos of the GD and other bands. Writer Dennis Mcnally - who worked as the group's publicist for many years - is her husband.
She took another one of my all time favorite rock music pictures of Jerry Garcia which you can see here. As you can probably tell by now I have a lot of them. He was fairly photogenic for a fat old man!
On her website there's a very long list of publications that her photos have appeared in. This includes many well known magazines such as Time, Newsweek and Rolling Stone as well as several major books like "A long Strange Trip" - her husband's definitive biography of the band.
(Above) Oakland Coliseum Arena, Oakland, CA 1-26-93
Photo by Susana Millman
You've probably seen some of her more famous Grateful Dead rock music pictures before. She has an interesting philosophy regarding photography and you can see it reflected in the quality of her shots. Despite her success she has kept the prices for prints of her photos very low. (8x10 - $60, 11x14 - $100, 16x20 - $140)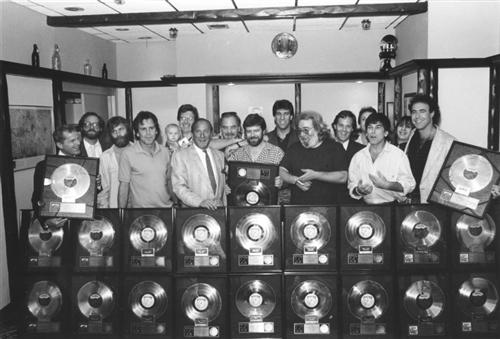 Madison Square Garden, New York City, NY 9-15-88
The boys with the president of Arista (Clive Davis) and their gold records
Photo by Susana Millman
Well that's it - I hope you've enjoyed my three part article on inexpensive rock music pictures of the Grateful Dead. All 13 of the artists I mentioned here deserve to be commended for keeping their prices low when so many others are not. Please don't be afraid to support them by purchasing their prints!
Recent Additions
From time to time I may add more photgraphers here that I've discovered since this article was written:
Peter Corrigan has some amazing photos of the band circa 1970 for sale on his website at great prices (8x10 - $14.99, 11x14 - $34.99).