Alabama Getaway Lyrics
32 teeth in a jawbone, Alabama trying for none
Before I have to hit him, I hope he's got the sense to run
Reason the poor girls love him, promise them everything
Why they all believe him? He wears a big diamond ring

Alabama getaway, getaway. Alabama getaway, getaway
Only way to please me, just get down and leave and walk away

Majordomo Billy Bojangles, sat down and had a drink with me
Said what about Alabama, that keeps a-coming back to me?
I heard your plea in the courthouse, witness box began to rock and rise
Forty-nine sister states had Alabama in their eyes

(Repeat Chorus)

Major said why don't we give him rope enough to hang himself?
No need to worry the jury, they'll probably take care of themselves
Twenty-third Psalm Majordomo, reserve me a table for three
Down in the Valley of the Shadow, just you, Alabama and me

(Repeat Chorus)
Music by Jerry Garcia
Alabama Getaway lyrics by Robert Hunter
First performed 11-4-79 Civic Center, Providence, RI
Final performance 6-2-95 Shoreline Amphitheater, Mountain View, CA
Alabama Getaway lyrics copyright Ice Nine Publishing Company, Inc.

---
Grateful Dead Songs - Alabama Getaway
Alabama Getaway debuted in November 1979 and was played 141 times in concert according to Deadbase. It was performed regularly through the early 80's gradually becoming more rare until it was dropped altogether in '89. It was brought back briefly in '95 appearing four times.
It's an upbeat Hunter/Garcia rocker in the vein of Johnny B. Goode and other Chuck Berry classics. As such, it doesn't lend itself to exploratory jamming. The way it was performed never really changed much over the years. It was usually paired with either Greatest Story Ever Told or Promised Land, both of which made for an easy segue because of their similar tempos.
It's not a bad tune but I don't really think Hunter's Alabama Getaway lyrics rate among his finest work. As far as Grateful Dead songs go I find it to be rather inconsequential. It would seem that the band may have agreed as evidenced by it's usual slot as the first set opener. More often than not they basically just used it to warm up. It did make for a great opener at times however. When Jerry was feeling particularly feisty he could really tear it up and kick things off with a bang.
Surprisingly, it almost became the band's first hit single when it was released on Go To Heaven in 1980. They played it when they appeared on Saturday Night Live that year and the exposure resulted in some serious radio airplay. It soon fizzled out however and became another near miss for the band.
---
Appeared On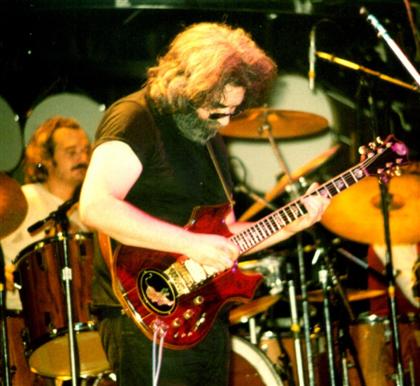 Civic Center, Providence, RI 11-4-79
Photographer unknown