Bertha Lyrics
I had a hard run, running from your window
I was all night running, running, running, I wonder if you care
I had a run in, run around and run down
Run around a corner, run smack in to a tree

I had to move, really had to move
That's why if you please, I am on my bended knees
Bertha, don't you come around here anymore
Dressed myself in green, I went down to the sea
Try to see what's going down, try to read between the lines
I had a feeling I was falling, falling, falling
Turned around to see
Heard a voice a-calling, calling, calling
You was coming after me
I had to move, really had to move
That's why if you please, I am on my bended knees
Bertha, don't you come around here anymore
Ran into a rainstorm, ducked into a bar door
It was all night pouring, pouring rain
But not a drop on me
Test me, test me
Why don't you arrest me?
Throw me in the jailhouse
Until the sun goes down, till it go down
I had to move, really had to move
That's why if you please, I am on my bended knees
Bertha, don't you come around here anymore
Music by Jerry Garcia
Bertha lyrics by Robert Hunter
First performed 2-18-71 Capitol Theater, Port Chester, NY
Final performance 6-27-95 The Palace, Auburn Hills, MI
Bertha lyrics copyright Ice Nine Publishing Company, Inc.
---
Grateful Dead Songs - Bertha
Bertha debuted in 1971 and quickly became one of the best loved and most often played Grateful Dead songs. It was performed right up until the end and never left their playlist for any extended period of time. According to Deadbase 10 it appeared in concert a total of 393 times.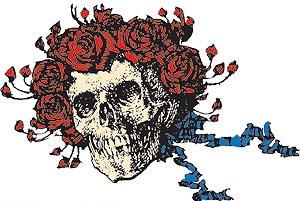 It wasn't really a vehicle for extended jamming but it did prove very versatile for smooth transitions into other songs and could pop up in either set at any given time. It would segue into many different tunes including Me and My Uncle, Mexicali Blues, Greatest Story Ever Told, and Promised Land. However, it was most often paired with Good Lovin'. In the late 70's it evolved into one of the band's classic musical suites consisting of I Need A Miracle -> Bertha -> Good Lovin' and often closed the show in fine style. This only lasted a few years - the first appearance of this combo was 12-15-78 and the last was 3-14-81 - but it was played pretty consistently during this period.
Meaning Of Bertha Lyrics
At first glance the Bertha lyrics seem to be about the end of a very bad relationship with the main character running for his life. The singer is trying to find freedom and pleading for Bertha to leave him in peace.
However it seems that the song may actually be a bit of an inside joke. Jerry Garcia stated in an interview once that Bertha was actually a giant free standing metal fan in the band's office. The fan was really old and quite dangerous because it had no guard on it and it moved around the room on it's own due to it's heavy vibrations.
If you think about the song in terms of people in the office trying to avoid being maimed by this runaway fan then it gives Robert Hunter's Bertha lyrics a whole new spin.
Los Lobos does a great cover of the song on the tribute album Deadicated. It's also included on their best of anthology Just Another Band From East LA.
A final note - Bertha was played with enthusiasm so many times that choosing my favorite versions proved rather difficult. Probably just as many great performances were left off the list as were included.
---
Bertha Appeared On
Three From The Vault, 2007 (2-19-71)

Grateful Dead (Skull and Roses), 1971 (4-27-71)

Ladies and Gentlemen..., 2000 (4-25 thru 4-29-71)

Road Trips 3 - Summer '71 Bonus Disc, 2008 (8-6-71)

Dick's Picks, Vol. 35, 2005 (8-7-71)

Hundred Year Hall, 1995 (04-26-72)

Winterland 1973 - The Complete Recordings, 2008 (11-9-73)

Dick's Picks, Vol. 24, 2002 (3-23-74)

Dick's Picks, Vol. 20, 2001 (9-25-76)

Live at the Cow Palace (New Year's '76), 2006

Dick's Picks, Vol. 29, 2003 (5-21-77)

Dick's Picks, Vol. 15, 1999 (9-3-77)

Dick's Picks, Vol. 10, 1998 (12-29-77)

Dick's Picks, Vol. 18, 2000 (2-3-78)

Dick's Picks, Vol. 25, 2002 (5-10-78)

Road Trips 4 - Winterland '78 Bonus Disc, 2008 (10-21-78)
Road Trips 1 - Fall 1979, 2007 (11-9-79)

View From The Vault 4, 2003 (7-24-87)

Truckin' Up To Buffalo, 2005 (7-4-89)

Grateful Dead publicity shot from October 1971
Photo by Mary Ann Mayer